Contact Us
HPS meets at the:
Huntsville-Madison County Public Library
915 Monroe Street
Huntsville, AL 35801
(256) 532-5940
---
About the Huntsville Photographic Society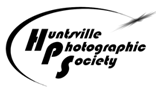 HPS is an organization dedicated to promoting the art and science of photography in Huntsville, Alabama, and the surrounding area through informative programs, member contests, and special events.
HPS meets on the second and fourth Monday of every month. On the first meeting each month, a guest speaker will visit HPS and make a presentation on her or his area of expertise. On the second meeting of each month, HPS holds a photo contest based on the contest theme for that month. A judge is invited to comment on, critique, and award places to contest entries.
We would love to hear from you!